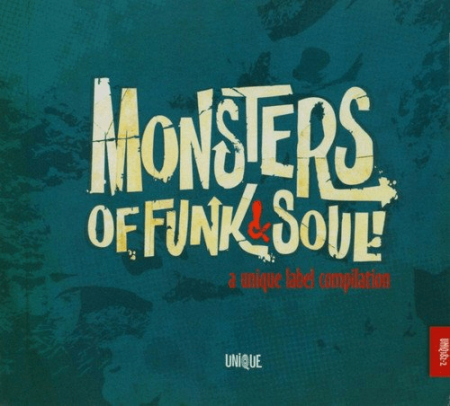 FLAC (tracks +.cue,log) | Genre: Soul, Funk, Rhythm & Blues | 55 min | 352 MB
Our beloved Monsters Of Funk & Soul party has become an important part in the Duesseldorf scene. For already 3 years \'the monsters are in da house\' — twice a year and full of funk and soul. So it\'s totally about to give that party its own compilation — just in for the next Mofas Unique will release that compilation to get you the monsters into your home and to push away the cold autumn.
Look forward to tracks which have been released on 7 inch or 12 inch only — like Wondertronix\' \'Make You Happy\' or \'Good & Plenty\' by The Soul Snatchers. Laura Vane & The Vipertones even deliver a previously unreleased goodie — \'I Can\'t Move No Mountains\'. Of course some familiar Unique faces are part of the team as well — Eli Goulart presents his version of the Bobby Hebb classic \'Sunny\', The Sweet Vandals pay homage to James Brown\'s \'Papa\'s Got A Brand New Bag\' and Osaka Monaurail get you the \'Quick Sand\'.
01. Laura Vane & The Vipertones — Am I Dreaming? (02:50)
02. The Soul Snatchers — Good & Plenty (03:41)
03. Al Supersonic & The Teenagers — Lean On Me (03:20)
04. Plenty Enuff — Shoot the Birds (Vocal Version) (02:49)
05. The Sweet Vandals — Papa\'s Got a Brand New Bag (02:50)
06. Glen An — Fired Up (04:40)
07. Osaka Monaurail — Quick Sand (04:41)
08. Glen Anthony Henry — I Don\'t Know (03:39)
09. Al Supersonic & The Teenagers — You Don\'t Have to Love Me (02:43)
10. Eli Goulart e Banda do Mato — Sunny (03:39)
11. The Sweet Vandals — Charlie Love (03:49)
12. Osaka Monaurail — Soulful Strut (04:37)
13. Wondertronix — Make You Happy (03:32)
14. Laura Vane & The Vipertones — I Can\'t Move No Mountains (02:58)
15. Ben From Corduroy presents Fab Guiro! — I Feel Fine (02:27)
16. Homewreckers — Home Wreckers (03:00)
DOWNLOAD
uploadgig

rapidgator

nitroflare